Frequently, we hear complaints of the tedious process of topical treatments or the arduous process in acquiring oral anti fungal medication (which can impact the liver). This often leaves patients feeling hopeless or resigned to a life with fungal nails.
Lunula Cold Laser for Fungal Nails
A safe, painless and superior option to treat toenail fungus!
What is Cold Laser & how does it work?
The Science:
The Lunula combines two beneficial wavelengths: 405nm and 635nm. The synergistic effect of both is capable of stimulating a cascade of effects that help the body to clear the fungus, and grow clear and healthy nails.
The 405nm wavelength targets NADPH oxidase (NOX), a membrane-bound enzyme and increases the production of Reactive Oxygen Species (ROS), which can cover to H2O2. This increased production leads to increased fungal spore susceptibility to the body's immunity.
The 635nm wavelength stimulates Cytochrome C Oxidase (CCO), this is an important enzyme for Adenosine Triphosphate (ATP) and ROS production. Increased ATP activates pathways that increase Nitric Oxide (NO) production, a significant factor for improved circulation and nutrient delivery and infiltration of immunological cells. In the presence of increased ROS which then coverts into cytotoxic H2O2, this enhances performance of the immune mediates such as circulating macrophages and neutrophils.
Simple Translation:
Essentially, the synergistic effect of the two lasers produce increase spore susceptibility, whilst boosting circulation and penetration to key areas and stimulating the body's immunity.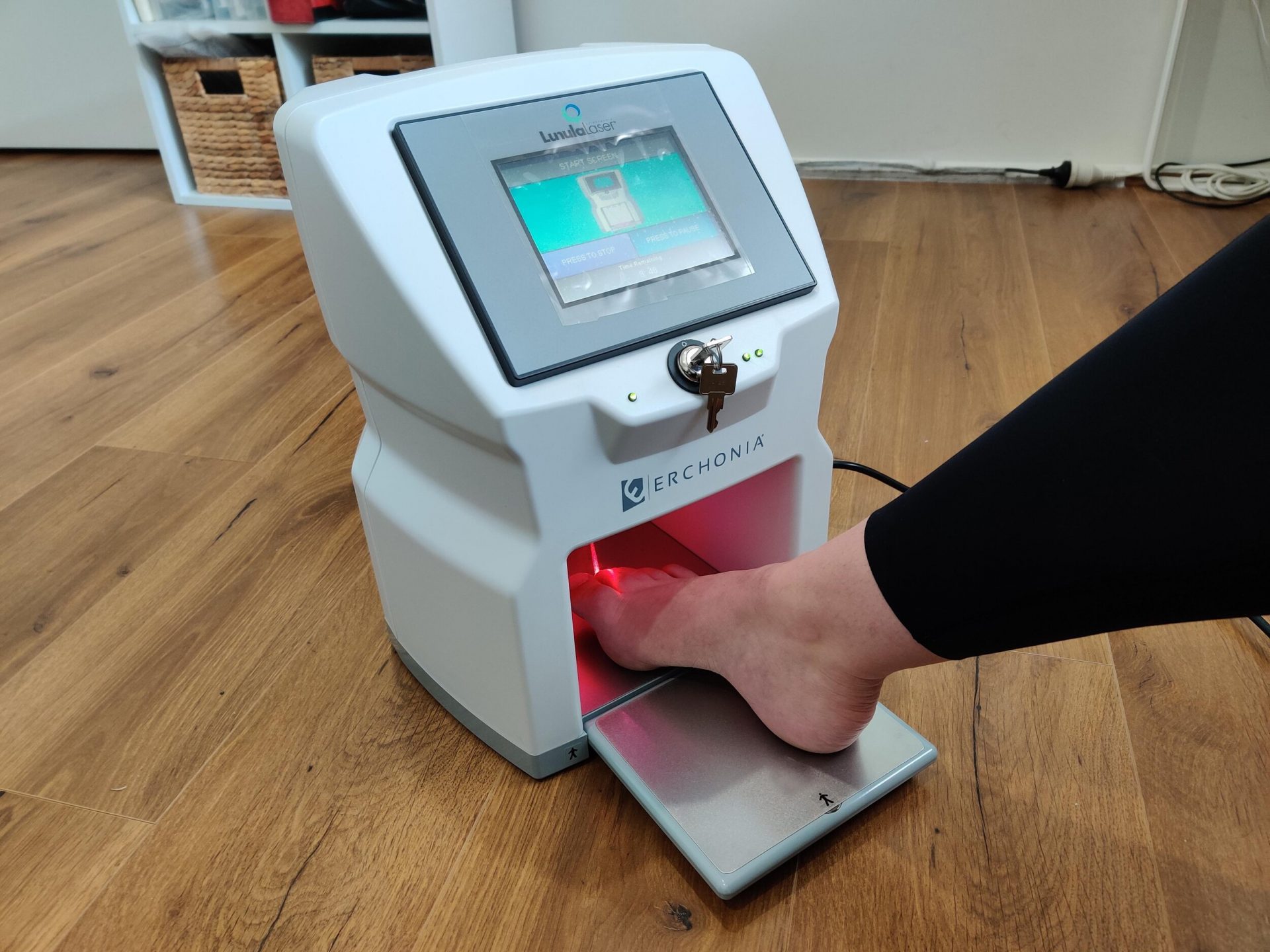 Effectively kills nail fungus in a few treatments
Stimulates your own immune response
Completely safe, no side effects, pain or recovery time required
Works on both toenails and fingernails
Improves healthy nail growth, key to successful outcomes
Your first visit will include assessing your health and medical history, your background with fungal infections and talk you through how we use cold laser.
2. Photo taking to assess baseline
Tracking your progress is paramount to assess your response to treatment. Therefore we take some photos of your nails at the initial consultation, halfway through your treatment program and at the last session.
If excessive thickening is present, use of a professional nail burr is used to reduce the thickening of the nail, and optimise penetration and effectiveness of the laser.
We will also sterilise your shoes with a special ultraviolet light that kills 99% of fungus, this can be done for up to 3 pairs of shoes. This can be done at each appointment. This is also available for purchase to sterilise your shoes at home.
5. Cold Laser (weekly for 4 weeks- 12 mins per foot)

The standard duration for laser is 12 minutes for each foot. This is totally safe, and pain-free. Some patients report a slight tingling sensation during the treatment.
6. Preventing Reinfection
We want to prevent the cycle of reinfection, with shoes and socks posing a high risk of harbouring fungal spores. We educate you on how to disinfect these items effectively with strategic use of anti-fungal laundry rinses.
Frequently Asked Questions