The Onyfix Nail Correction System
Onyfix is an individualised, versatile and innovative product enabling totally painless treatment of ingrown and involuted toenails. It uses a state-of-the-art composite nail brace that adheres to the nail and reshapes it, ensuring a natural flatter shape. The entire process is pain-free, from start to finish.
The principal method of the system is retraining the nail to grow back to its original shape over several months during the natural growth process. 
The podiatrist applies a hardened composite material, which is then cured by a LED light acting like a brace on the nail plate. As the nail grows, the correct shape is maintained as it grows from the base of the nail until the end, thus reshaping the pathway for the new nail growth over the course 2-3 months. Additional bands can be applied, during this time, to the toenail to ensure that the desired result is obtained.
We recommend 3-4 bands with 6 weekly appointment intervals.  Once complete, the composite is removed and the nail continues to grow naturally.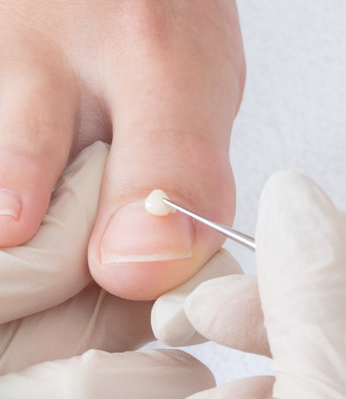 1. The nail will be filed down and reduced to flatten the toenail before application of Onyfix. Debris from nail folds is also cleared, with cleaning of the nail plate to allow for better fixation of the product.
2. The Onyfix primer will be applied evenly across the widest portion of the nail plate to assist adhesion of the composite.
3. The Onyfix composite is then applied to the toenail base, whilst an additional band can be applied to the end of the nail with a probe lifting up the edge
4. The bands are then cured with LED light for 30 seconds.

Who can benefit from Onyfix?
Patients with flat nail bases could have complete relief without the need for surgery.
Curved (involuted) or wide nail bases may require a combination of partial nail resection (PNA) and Onyfix.
Split nails could utilise Onyfix to allow healthy growth, keeping the split from progressing to the base of the nail, whilst keeping the nail intact as the split grows out.
Why Onyfix vs traditional Nail Braces?
Onyfix functions very much like a nail brace via the hardened composite that is utilised. The difference being, that unlike a nail brace, no wires are used to hook under the nail plate. This allows for the growth of a natural nail shape in a painless and tension-free manner.
Unfortunately, nail bracing can be uncomfortable and lead to inflammation. It is also possible for slipping and dislodging of the brace off the nail plate and further discomfort whilst in closed footwear.
The alternative that Onyfix offers is a completely pain-free process from application to removal.
Evidence-based and effective
Combinable and individually adaptable system
No restriction on patient activity
Suitable for pregnancy, diabetics, elderly etc
Still able to apply nail polish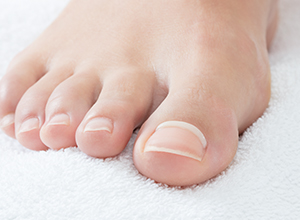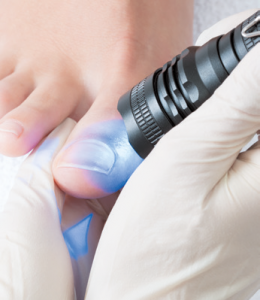 One Toe Nail: $95
Two Toe Nails: $150
More than 50% of the nail affected by fungus

Detachment of the nail from the nail bed

Nail bruising or malignancy
Frequently Asked Questions